Last month I felt a bit sluggish and like I needed a bit of a break from reading so much. So this month I decided to have a more relaxed reading month. To go back to mood reading and not try to stick to a TBR. I found that I had a lot more fun reading books that I was in the mood for rather than books I felt I had to read because I'd made a TBR.
It's also part of why I decided to not take part in any readathons this month either. I had felt a bit tired of readathons really. And a big part of me is thankful that I didn't take part in the Reading Rush this year like I had planned to after the mess that happened with the live show (which they've now taken down).
I ended up having a much more relaxed reading month this month. And I really enjoyed it. It also made me think about possibly reviewing less books and just enjoy reading them without critically analysing every bit of it.
Also this month I have now read 42 books this year! My reading goal for this year was 20 books. So I've now read just over double my original goal!
Books read this month…
So this month I read 5 books! I've been in a bit of a reading slump over the past 6 or so weeks. So I'm really happy to be getting back into enjoying reading again.
I decided that I was going to have a more relaxed reading month and mood read this month. I was thinking about doing the Reading Rush readathon this month, but I had exhausted myself a bit with them and needed to take a break.
This month I only had 1 book that I needed to read; Nightmare Asylum & Other Deadly Delights by Sonia Kilvington for a Blackthorn book tour. The rest of the books I read in July were all books that I felt in the mood to read.
Nightmare Asylum & Other Deadly Delights by Sonia Kilvington | 3 🌟🌟🌟
Goodreads | Amazon (affiliate link)
I'm not going to talk too much about this book as I wrote a review for this book, which you can read here. I read this book as part of a book tour with Blackthorn Tours. I've not read horror for a while and this was a short story collection so I didn't feel like this was too difficult a book to read after not reading horror for a while. I really enjoyed this book and it made me realise that I enjoy reading horror about everyday things.
The Hate U Give (audiobook) by Angie Thomas | 5 🌟🌟🌟🌟🌟
Goodreads | Amazon (affiliate link)
This is another book that I've already written a review for, so I won't go into too much detail about this book, which you can read here.
Honestly, I couldn't recommend reading this book more. Especially now. It really deals with police brutality and racism so well. This book draws inspiration from the Black Lives Matter movement, and as at the moment their are protests throughout America and other parts of the world I think that this is a really good book to read.
Also the audiobook is amazing to listen too!
Hunting Prince Dracula by Kerri Maniscalco | 4 🌟🌟🌟🌟
Goodreads | Amazon (affiliate link)
I read the first book in this series, Stalking Jack the Ripper, a few months ago for a readathon. I enjoyed it but I had felt that it wasn't as amazing as people make it sound.
This book, however, I loved. I felt like the Maniscalco was a lot more imaginative with this story and her writing had grown since her first book. I enjoyed this book a lot more. I thought that Hunting Prince Dracula was a very fun and mysterious book. Unlike the first book I didn't guess who the killer was. And I didn't think that this book was a predictable at times as the first book was. Possibly because it's not using a real life timeline and events like Stalking Jack the Ripper.
I felt like I had a lot more fun reading this book than I did the first one. I really like Maniscalco's writing and I'm glad that I decided to read this book too.
I really liked the characters in this book, the main characters and the new characters that were introduced. I loved how Audrey and Thomas's relationship grew in this book and I liked that it wasn't always happy and plain sailing. Thomas had his dumb moments that made me want to shake him. And Audrey had hers too. But it was really fun to see their relationship develop even more in this book.
I loved the mystery and trying to figure out who the murder, or murderers, was.
The Shadows Between Us by Tricia Levenseller | 4 🌟🌟🌟🌟
Goodreads | Amazon (affiliate link)
This was a book that I really enjoyed reading. It was a really fun read.
I like a good standalone fantasy that isn't too overly complicated that I can easily sink my teeth into. And The Shadows Between Us was definitely one of those books. The first line drew me in and made me want to know more about the characters and what was going to happen.
I liked Alessandra, the main character, a lot. She was witty, clever, power hungry, murderous, sex positive, and knew what she wanted. Which was to marry the king, kill the king, and rule as queen. I thought that she was a really fun character and I really enjoyed reading about her.
At times I did feel like the story was a little predictable but I still really enjoyed.
I have read two books by Tricia Levenseller, so I knew going into this book that I already liked her writing style. Which is always a plus for me. I like how she created this world; there was enough about the politics, courtly rules, etc. There were something things that I felt could have had a bit more information about in this book, but they weren't major or impacted the story that much. I'm probably just very used to reading high fantasy were there's 20 different characters, religions and countries!
Overall, I really enjoyed reading this book.
Nice Girls Don't Have Fangs (audiobook) by Molly Harper | 3 🌟🌟🌟
Goodreads | Amazon (affiliate link)
I've read some of Molly Harper's books before and I really liked her writing, the majority of her books are paranormal romance. I find that they're very fun and easy to read. I haven't read a vampire romance story since I read True Blood many, many years so it was kind of nice to read one again after so long.
I thought that this was a pretty lighthearted, easy, fun read. I also quite enjoy listening to the narrator, Amanda Ronconi who's narrated some other audiobooks I've listened to before.
This was the first book in a series that Harper has about the vampire Jane. I'm not sure if I'm going to read the next book in the series. And if I do I don't think it will be straightaway. I think I'll probably wait until I want a more lighthearted book to read.
The books I bought this month…
This month I actually bought 4 audiobooks! (There was a sale and I had Audible credits I wanted to use too.)
The Hate U Give by Angie Thomas
Illuminae by Jay Kristoff and Amie Kaufman
Nice Girls Don't Have Fangs by Molly Harper
Venators: Legends Rise by Devri Walls
This months reading stats…
| Book Title | Pages read |
| --- | --- |
| Nightmare Asylum & Other Deadly Delights | 154 |
| The Hate U Give | 444 |
| Hunting Prince Dracula | 435 |
| The Shadows Between Us | 326 |
| Nice Girls Don't Have Fangs | 355 |
| Total | 1714 |
This months posts…
Next month…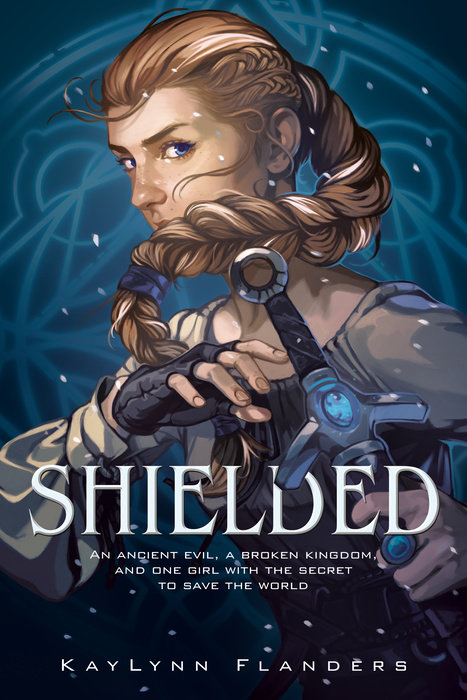 I have one book that I know I'm going to be reading (well, finish reading): Shielded by KayLyn Flanders for the book tour with TBR and Beyond Tours. Which I'm very excited about. Especially as this is my first tour with them too.
Here's the Goodreads page if you want to check it out, and here's the tour schedule if you want to check that out too!
I don't have anymore books that I plan on reading in August. I'm probably going to keep on mood reading like I did in July. I don't think I'm going to take part in any readathons in August either, except for maybe HypeAThon. As the theme is #AnythingAugust so I might read a book or two or maybe more for it!
But I don't really won't to set myself a TBR and end up in another reading slump. I don't mind having a TBR sometimes but most of the time I much prefer to mood read.
---
Did you read anything interesting/you really loved in July?
Until next time stay safe and keep on reading 😃